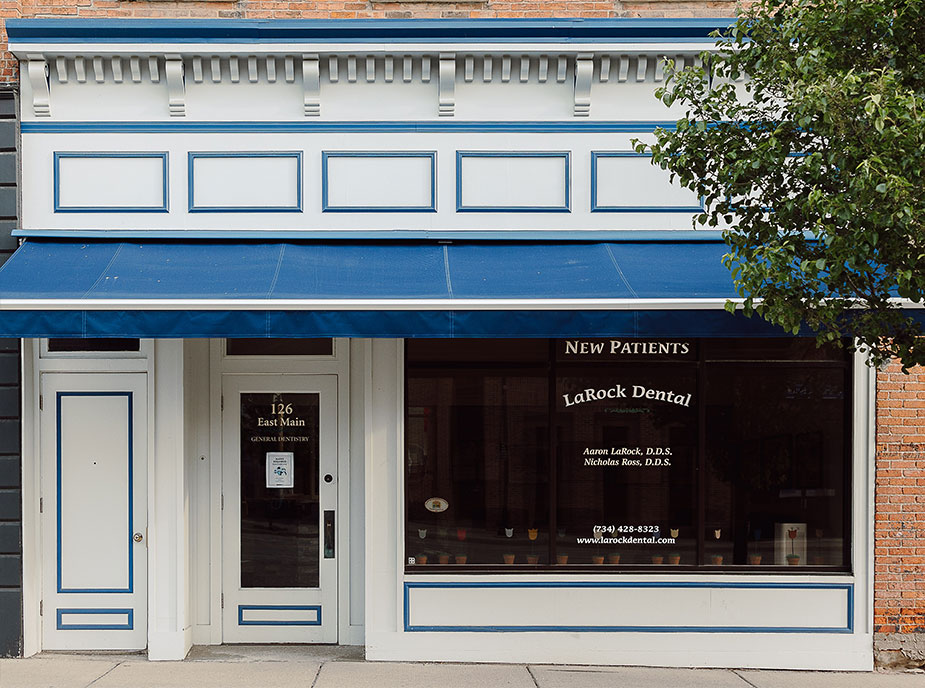 By addressing these frequently asked questions, we hope to make new and returning patients feel more comfortable visiting our practice. If you don't see an answer to your question here, please contact us by calling (734) 428-8323 or using our convenient online form. One of our team members will be happy to answer all of your questions.
Is LaRock Dental Accepting New Patients?
Yes, our practice accepts new patients of all ages. We're a family dentistry that handles pediatric dental services in addition to treatments and care for adults. Whether you already have good dental health or need some help with compassionate treatment for existing health concerns, you're welcome here. We'll help improve your smile and keep it looking good for years to come.
What Services Are Available From Dr. LaRock and Dr. Ross?
Our practice is focused first and foremost on preventive care for our patients. From routine cleanings to digital X-rays, we aim to prevent dental health issues and find them early whenever we can. Our services include restoration work, including crowns, dental implants, dentures, and more. There are even cosmetic services available here at LaRock Dental, including Glo Tooth Whitening.
How Much Will Specific Treatments Cost?
We're upfront about the costs of all dental treatments we provide here and work with your insurance company. Your out-of-pocket costs will vary depending on your treatments, what your insurance covers, and any dental membership plans. We can provide estimates to help you find financing for the costs.
What Payment Options Are Available?
Our front desk team can give you more information about the insurance plans we accept. We also accept cash, local personal checks, debit cards, and all major credit cards. You can also discuss the potential for payment plans or find out more about our dental memberships that offer a fixed annual price for a number of dental services. We do not accept Medicaid or Medicare dental benefits.
What Occurs During a Routine Dental Visit?
Each routine visit starts with a thorough cleaning to remove tartar and plaque from your teeth. We'll check for health problems like oral cancer, periodontal disease, and cavities. Once a year, we'll also take X-rays to check up on your jaw health and tooth roots. At the end of the visit, we'll answer any questions you have about your dental health and recommend any important procedures.
How Often Do I Need To Visit the Dentist's Office?
We ask patients to visit twice a year for routine cleaning and exams. If you suspect a problem with your gums or teeth, schedule a visit as soon as possible so we can determine what's going on. We aim to keep dental care affordable so you don't have to worry about the number of visits you need to make per year to take care of your health.
What Will the First Visit to LaRock Dental Include?
The first time you ever visit our practice, our team will start the process off with some forms to gather information about your dental health and insurance coverage. You can download those forms here and print them out to fill out ahead of time. 
After we complete the paperwork, one of our dental hygienists will give you a complete teeth cleaning. Then we'll move on to an exam from Dr. LaRock or Dr. Ross and one of our team's experienced dental assistants. We'll discuss any issues we might discover with you, making honest recommendations on treatment options.
Schedule an appointment with our dental team today if you want to discuss anything in person.
Request An Appointment Today
If you're looking for compassionate and quality dental care in Manchester, MI, you can rely on LaRock Dental and the caring team under Dr. LaRock and associate Dr. Ross.
Testimonials
We Love Hearing From Our Patients

Front desk staff, dental hygienist and doctors were pleasant and professional.
– Gerald M.

"My hygienist was amazing and dentist was excellent. Highly recommend!"
– Brent L.

"Great small town practice with a caring staff."
– Michael B.