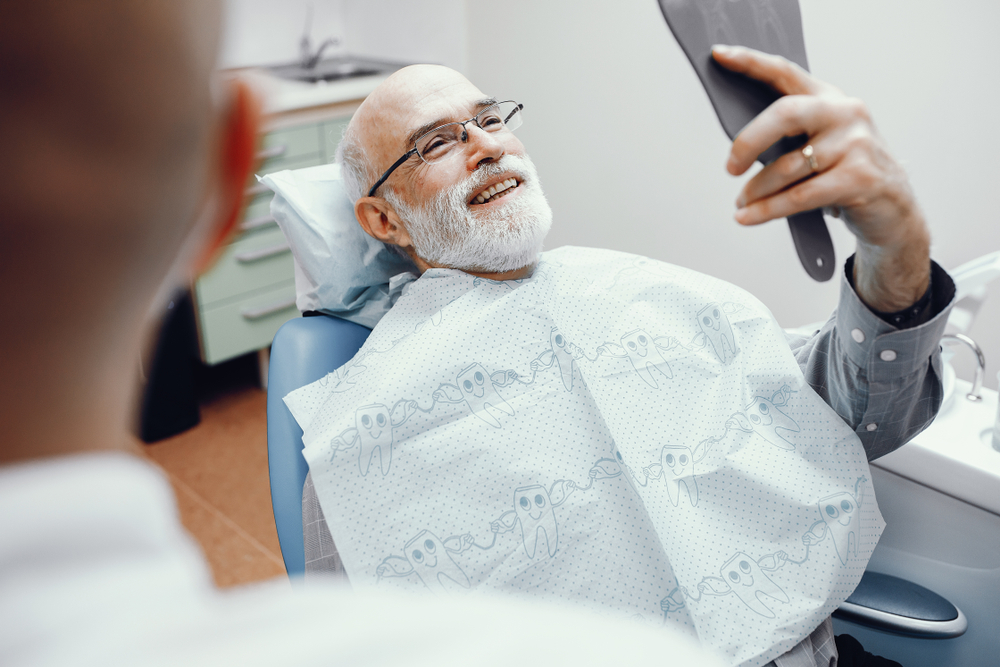 Dentures have been the standard restoration option for replacing missing teeth for centuries. While they improved each decade, few breakthroughs were as dramatic as the development of implant-supported dentures. For the majority of the history of dentures, they simply rested on the gum tissue or were held in place by the tongue. Denture adhesives increased suction for a good grip, but they couldn't hold up in some situations.
Now, you can install titanium posts in your gum tissue that mimic the strength of natural tooth roots, then attach dentures to those posts. That's the power of implant-supported dentures, one of our best restoration dentistry options here at LaRock Dental.
How Are Implant-Support Dentures Installed?
Much like other types of dentures, you'll start with full impressions to capture the space you need to fill with the dentures and get a good custom fit. We offer digital impression services so that you don't have to sit there with messy gel in your mouth for three to five minutes. Once we have the impression needed for shaping your new dentures, we'll work on them while preparing for your dental implant procedure.
This step includes the same process as setting the posts for dental implants as well. For most patients, it's only a minor surgical procedure that requires a few days of recovery. Once the posts settle in and heal, we can test-fit the dentures and make sure they attach well to the anchors. You'll get a chance to test them out and should return as needed for adjustments.
Traditional Dentures Vs. Implant-Supported Dentures
Traditional dentures rest on your gums or against your upper palate through suction alone. That means that any relatively strong force has a chance to disturb your dentures and leave them loose in your mouth. Using the implants to anchor the dentures prevents this problem altogether. 
There's no need for taking the dentures out daily to clean under them since you can rinse and brush them while they're in place. Like other types of dentures, these devices can work as partial installations to replace just a few teeth or a full arch to replace an entire set of missing teeth.
Who's a Candidate for This Kind of Denture?
Patients who want implant-supported dentures will still need to qualify for implant installation. Since several health concerns and dental issues can contraindicate the use of this process, Dr. LaRock will need to do a full exam before determining what will work for you. We may be able to recommend treatments from oral surgeons that can help re-establish healthy gum and jaw tissue so there are placement points for dental implants after you recover.
Taking Care of Implant-Support Dentures
These dentures need thorough cleaning and care just like any restoration work. A professional cleaning every six months is key since you won't be removing the dentures to clean under and around them. A water pick is a handy tool for daily cleaning, but it doesn't replace brushing. Don't bite too hard or chew excessively since the dentures themselves can be damaged by the pressure despite the support of the implants.
Talk about your options for filling in for missing teeth with Dr. LaRock and associate Dr. Ross. We have a restoration option for every patient in the Manchester, MI area.
Request An Appointment Today
If you're looking for compassionate and quality dental care in Manchester, MI, you can rely on LaRock Dental and the caring team under Dr. LaRock and associate Dr. Ross.
Testimonials
We Love Hearing From Our Patients

Front desk staff, dental hygienist and doctors were pleasant and professional.
– Gerald M.

"My hygienist was amazing and dentist was excellent. Highly recommend!"
– Brent L.

"Great small town practice with a caring staff."
– Michael B.