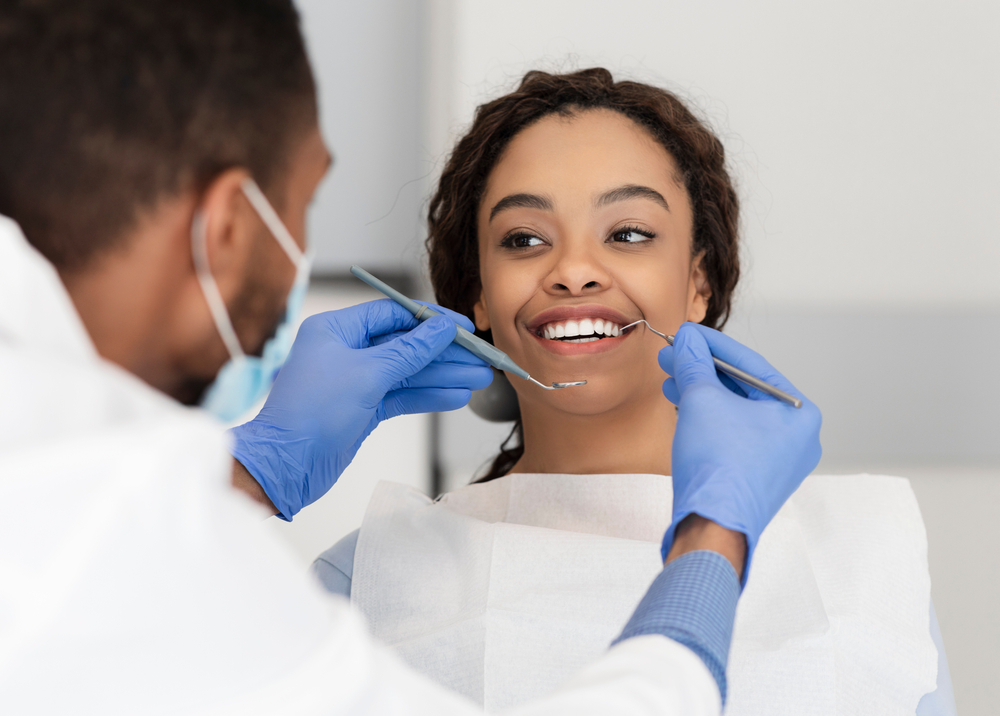 A commitment to dental hygiene is a key to lifelong health — and not just for your mouth. Good oral health leads to better heart and immune system health, but only if you keep up with your general hygiene efforts. Let our team at LaRock Dental provide you with professional cleanings, dental hygiene instruction, and general exams to ensure you're doing all you can to fight cavities and gum disease.
Our honest and informative approach empowers you to get involved in the dental health process rather than feeling left out of the conversation. We also use advanced diagnostic equipment like digital X-rays and scans when necessary to make our exams as in-depth as possible.
How Often Should I Get My Teeth Cleaned?
Visiting us twice a year for dental hygiene checkups and exams will help you maintain that smile all year round. Some patients with existing conditions, such as periodontal disease, may need to visit more frequently than others depending on the severity of their condition. 
If you're not sure how often you need cleaning, we can help by advising you on your current dental health with a full exam. Don't guess at the correct number of cleanings per year since it could lead to long-term issues.
What If I Brush Every Day?
Brushing your teeth twice a day is a good practice for ongoing dental hygiene. Yet it's no substitute for a thorough professional cleaning at the dentist. Even with the best toothbrush replaced every three months, tiny bits of tartar will get missed during routine brushing. When that tartar stays around and becomes plaque, even brushing that spot won't remove it anymore. A routine visit with our team will rid you of lingering tartar and plaque, resetting your dental hygiene for the next six months.
What Should I Do for Better Dental Hygiene?
Keeping up a few basic habits at home between visits to see Dr. LaRock and associate Dr. Ross will go a long way in protecting your teeth and gums. Brushing twice a day, in the morning and night, is the first step. Use a soft-bristled brush to avoid wear on the enamel and keep your gums from being irritated. Brush over the edge of the gums well to dislodge food that is stuck along where they meet the teeth. 
Use a ribbon type of floss to remove more debris and consider a water-pick device for even more thorough cleaning. Stop in for a quick dental appointment any time you suspect a problem rather than waiting to see how it develops on its own.
Why Do Professional Cleanings Matter So Much?
Professional dental cleaning is more than just a way to keep your smile sparkling and bright. It's an essential part of keeping your mouth healthy, as well. A professional cleaning from your dentist takes care of plaque buildup on teeth, which is a major contributor to gum disease. Also known as periodontitis, it can lead to tooth loss and other serious oral health issues if left untreated. It even increases the chance of heart disease, making routine cleanings a part of overall good health. 
Another great benefit of getting regular professional cleanings is that they help remove stains. Coffee and wine are just two of the common substances that stain your teeth when routinely consumed.
Come in and meet our team during your first appointment to find out how we do dental exams differently here at LaRock Dental.
Request An Appointment Today
If you're looking for compassionate and quality dental care in Manchester, MI, you can rely on LaRock Dental and the caring team under Dr. LaRock and associate Dr. Ross.
Testimonials
We Love Hearing From Our Patients

Front desk staff, dental hygienist and doctors were pleasant and professional.
– Gerald M.

"My hygienist was amazing and dentist was excellent. Highly recommend!"
– Brent L.

"Great small town practice with a caring staff."
– Michael B.