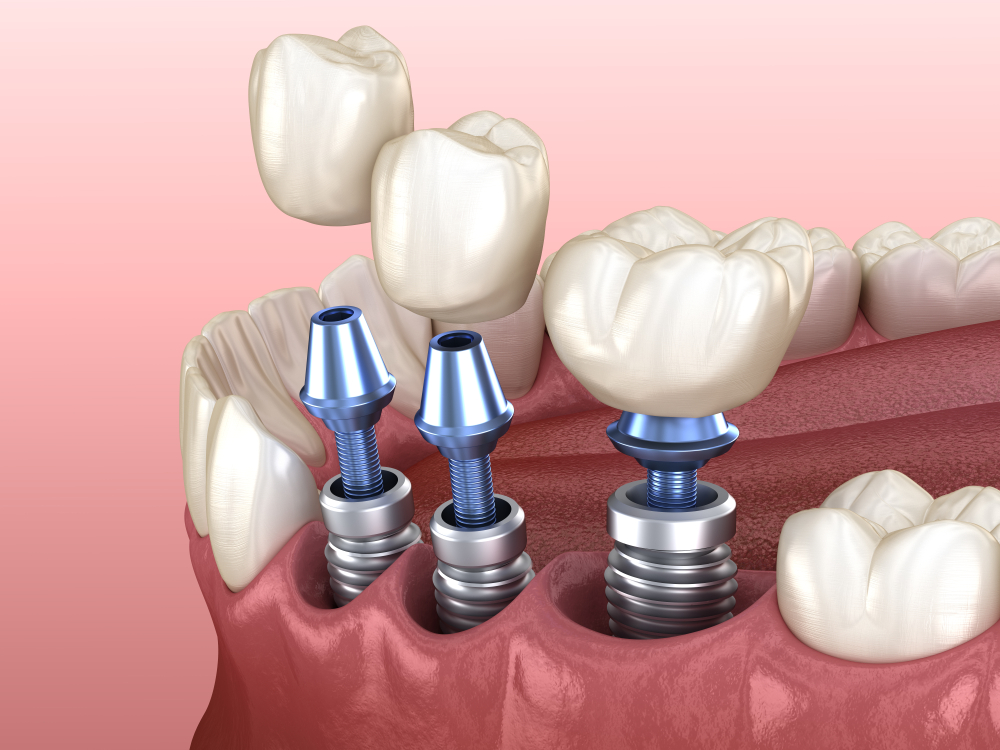 One of the latest advancements in restorative dentistry is the dental implant. Since they have a few decades of proven history behind them now, many patients in Manchester, MI have already invested in them. These particular dental prosthetics offer the greatest combination of benefits for the cost, but they eventually need restoration work to continue looking their best. Here at LaRock Dental, we can help restore stained, damaged, or chipped dental implants so they continue blending into your smile.
You can't beat how well a dental implant blends in with the rest of the teeth. Keep your implants in good working shape with a few tips on care and routine visits for minor restoration work.
How Do Dental Implants Work?
The dental implant looks like a single tooth or a small grouping of teeth sitting atop a metal screw. This spiral-covered section at the bottom is called the anchor because it attaches to your jaw thanks to its composition of body-safe titanium. Once the anchor bonds with your jaw bone, it's nearly as strong as the original tooth root. You can chew and bite with most of the same strength you enjoyed from the natural tooth. 
However, it is possible for the dental implant to become damaged over time. The upper part that resembles a tooth can chip or crack much like a natural tooth would under too much pressure. The post that inserts into your gum tissue and jaw also has a chance to break or come loose, requiring an emergency visit to the dentist.
How Can You Prevent Damage to Dental Implants?
Dental implants don't need a lot of extra care, but you should watch out for hard, chewy, and sticky foods. As with crowns, implants can be damaged by chewing too forcefully or trying to open packaging with the teeth. Don't chew ice or gnaw on pens either. The more you treat your implants with care, the longer they will last before needing restoration from our team.
Dr. LaRock finds that patients take better care of their dental implants if they think of them as real teeth. Remember to brush and floss the implant with care along with the rest of your teeth. Preventing decay around the dental implant is just as important as avoiding chewing foods or biting down too hard.
Do Dental Implants Ever Need Replacement?
While these implants represent some of the best restoration options for most patients who have missing teeth, they don't last forever. The anchor needs a proper site to reach the jaw, so there may not be space if the teeth have already shifted and filled the gap. Some dental implants must be removed so jaw or gum surgery can proceed before the new implant is placed. Replacement may be a good choice, or we may recommend a different type of dental work to restore your smile. A visit with Dr. LaRock or associate Dr. Ross can determine relatively quickly if you're a good candidate for replacement or dental implant restoration.
Discuss your desire to fill in your smile or maintain a good bite pattern with our dentists during your next appointment. You can also use our contact form to ask questions about dental implants.
Request An Appointment Today
If you're looking for compassionate and quality dental care in Manchester, MI, you can rely on LaRock Dental and the caring team under Dr. LaRock and associate Dr. Ross.
Testimonials
We Love Hearing From Our Patients

Front desk staff, dental hygienist and doctors were pleasant and professional.
– Gerald M.

"My hygienist was amazing and dentist was excellent. Highly recommend!"
– Brent L.

"Great small town practice with a caring staff."
– Michael B.