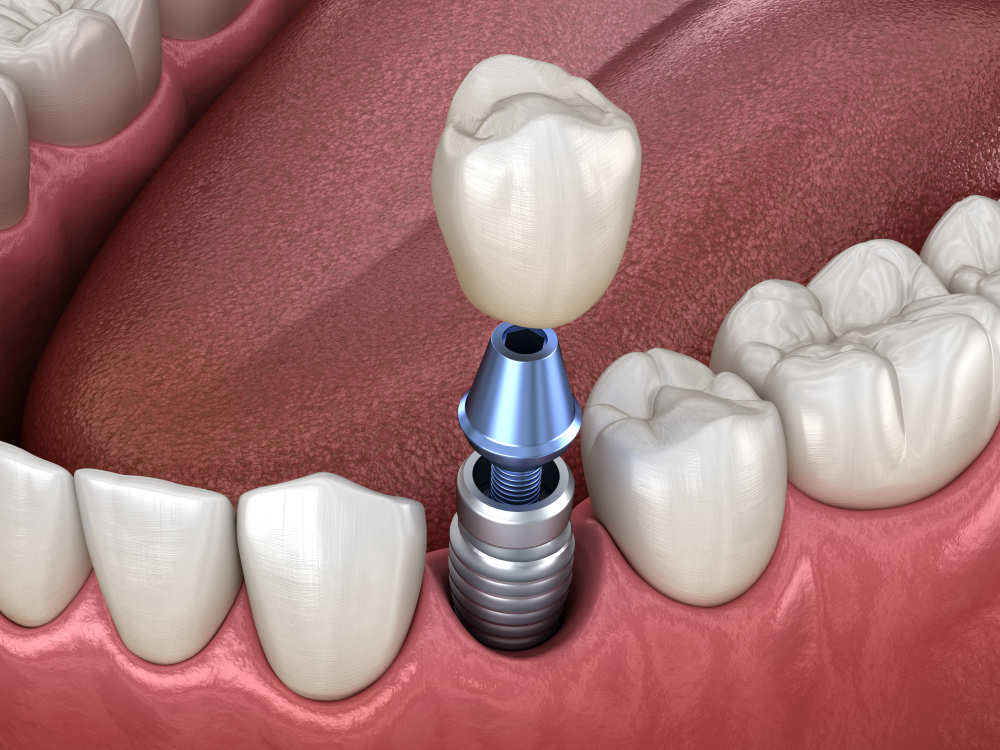 The dental crown isn't reserved for royalty, despite what its name might suggest. Anyone can enjoy the look of a restored tooth by relying on the covering power of a crown. Named for its installation on top of a pre-molar or molar, the finished crown should last for a decade or more before needing replacement. 
This is one of the most flexible forms of cosmetic and restorative dentistry we have on hand at LaRock Dental to help our patients. Depending on the cause of the issue, a crown may be the best way to repair the tooth and keep it from becoming damaged again in the future.
When Does Dr. LaRock Recommend a Dental Crown?
The crown is a somewhat advanced repair option for a damaged, discolored, fractured, or chipped tooth. It can completely reshape the top of a molar or pre-molar, creating a new bite surface that perfectly fits the corresponding teeth for comfort and easy chewing. Crowns are generally recommended by the dentists on our team when a tooth is too damaged for other repair options like fillings or bonding.
The crown can be made of more durable materials than used for something like a filling. There are also options for crowns that closely match the natural color of the rest of the teeth, disguising them and making them a viable cosmetic dental procedure for disguising damage.
Do Dental Crowns Require a Lot of Care?
Since the crown is attached to the whole tooth it covers, it's well attached and doesn't need a lot of extra care. You'll need to brush thoroughly but gently around the crown and floss with care in particular. Use a smooth ribbon floss and a device designed for crowns to ensure the thread doesn't catch in the hardware and yank on it. Other than letting our team inspect the crown during each visit to find early signs of wear or damage, you just need to avoid eating hard or sticky foods with your dental work.
What Can a Crown Improve Cosmetic Issues?
Crowns are generally recommended most often for stabilizing and repairing badly damaged teeth. Yet they're also a useful cosmetic procedure for dealing with teeth that are just discolored, misshapen, or damaged in a minor way. Almost any problem that you can see when yawning or smiling can be addressed with a crown. 
For cosmetic purposes, porcelain and other tooth-matching materials are preferred over precious metals like gold. Investing in crowns can create a more uniform appearance for your smile without requiring a lot of ongoing upkeep. With good brushing habits and a little work now and then, dental crowns can last decades.
Sometimes teeth that are tilted or otherwise out of alignment aren't a good choice for adjusting with retainers or braces. In these cases, it may be best to use a crown to reshape the entire surface into a better fit for your mouth. Chipped teeth are easily restored to their former shape with a crown.
Dental Crowns in Manchester, MI
See what's available thanks to the latest advancements in crown technology by making an appointment with LaRock Dental. Our dentists can show you what can be accomplished today with the power of cosmetic dentistry procedures.
Request An Appointment Today
If you're looking for compassionate and quality dental care in Manchester, MI, you can rely on LaRock Dental and the caring team under Dr. LaRock.
Testimonials
We Love Hearing From Our Patients

Front desk staff, dental hygienist and doctors were pleasant and professional.
– Gerald M.

"My hygienist was amazing and dentist was excellent. Highly recommend!"
– Brent L.

"Great small town practice with a caring staff."
– Michael B.