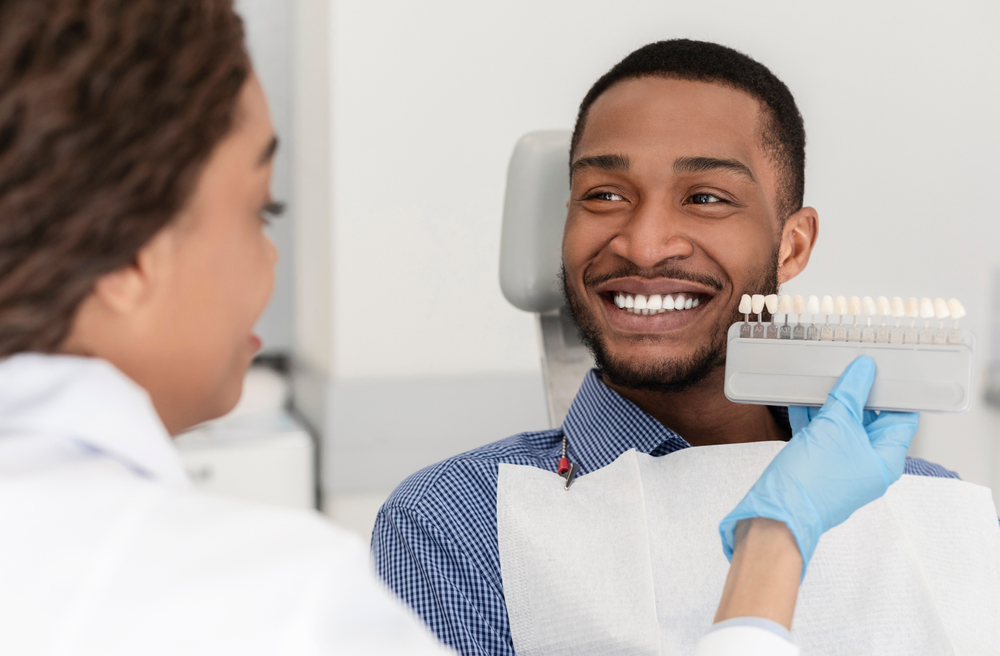 Veneers were one of the first forms of cosmetic dentistry to really make an impact on the smiles of millions. Similar in some ways to artificial nails, this procedure involves covering the existing tooth with a thin shell of composite material. The result is a tooth that is any color and shape you like, creating a near-perfect match of the teeth surrounding it.
If you are looking for big changes like covering chips, worn-down teeth, or stains that can't be removed with whitening, veneers are likely the right choice. Dr. LaRock has plenty of experience in putting together veneer packages that are natural and beautiful no one will guess you weren't born with your sparkling new smile.
Why Are Veneers Better Now Than in the Past?
When this cosmetic procedure first became popular in the 1980s, the materials used were much thicker and had a solid white color. The resulting effect was a little less realistic than many patients hoped for.
Today's veneers are nothing like those from the past. Even veneers from 2000 don't look as nice as those available today. With translucent, almost pearlescent material available today for making veneers, the effects are much more realistic than in the past. Don't let any memories of less-than-ideal veneer work discourage you from trying out this cosmetic procedure today.
It's not just the veneer materials that have improved since the early days of cosmetic dentistry. Attachment and shaping methods have also advanced and allow the finished work to blend in rather than stand out. Depending on the material used and the condition of the underlying teeth, veneers can last anywhere from five to ten years.
What Are the Types of Veneers?
As with most options for cosmetic dental treatment from LaRock Dental, there's more than one type of veneer available. Many veneers are made from porcelain because it's realistic looking, strong, and resistant to stains. However, porcelain veneers are a little harder to work on, so they also cost more to fabricate.
The less expensive type of veneer is made with resin instead, not dissimilar from the material used for dental bonding. Resin doesn't reflect light in quite the same way as your enamel, so it would look slightly less realistic than porcelain. However, the extra savings from choosing resin may help you invest in more veneers than you could afford in porcelain.
Are Veneers Good for Covering Single Teeth?
One of the most flexible cosmetic dentistry options, veneers are easily used to cover an entire row of damaged teeth or just to give one tooth a new look. A veneer used to cover a single tooth won't be any weaker or easier to spot than those used in a row. In fact, it's common to use this procedure on a single tooth after trauma or an accident causes discoloration or severe chipping.
There's no need for a crown if the tooth is still intact, but bonding may not be enough to fully cover all the issues. In those situations, veneers are often the perfect choice for cosmetic improvements and tooth stabilization at the same time.
Reach out to our team to ask any other questions you have about veneers or to make an appointment at our practice here in Manchester, MI. You can reach us at (734) 428-8323 or use our handy online contact form.
Request An Appointment Today
If you're looking for compassionate and quality dental care in Manchester, MI, you can rely on LaRock Dental and the caring team under Dr. LaRock.
Testimonials
We Love Hearing From Our Patients

Front desk staff, dental hygienist and doctors were pleasant and professional.
– Gerald M.

"My hygienist was amazing and dentist was excellent. Highly recommend!"
– Brent L.

"Great small town practice with a caring staff."
– Michael B.