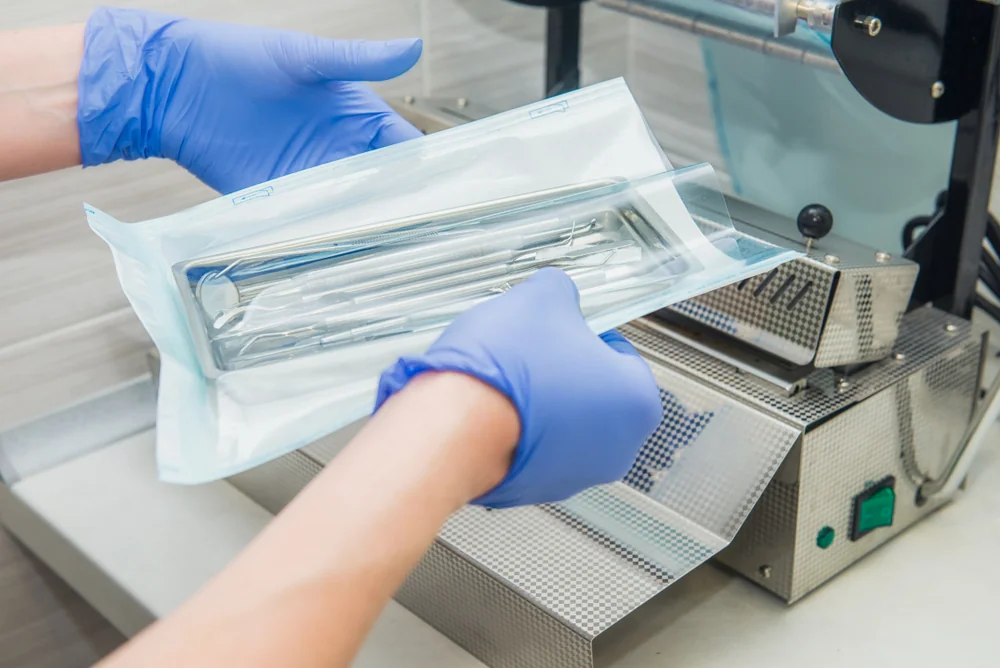 LaRock Dental Sterilization Procedures
As a dental care provider with your overall health in mind, our team at LaRock Dental works hard to keep the practice sanitized and safe for everyone. In addition to general cleaning and organization processes, we follow all the essential dental sterilization procedures for equipment and tools.
We want to provide you with dental care in the cleanest environment possible. Only state-of-the-art techniques are used to ensure we're compliant with all the latest standards of care.
How Our Practices Ensure Patient Safety
Our well-trained team follows all the procedures recommended by the Environmental Protection Agency (EPA), Occupational Safety & Health Administration (OSHA), and the Centers for Disease Control (CDC). Combining the best practices set by all three agencies ensures we provide sanitary dental care for all patients.
ADDITIONAL COVID STERILIZATION PROTOCOLS:
LaRock Dental has installed a UVC light on the central HVAC to sterilize the air circulating through the office.
Medify MA-25 Air Purifiers  with H13 True HEPA filters have been installed in individual patient rooms that also circulate the air and filter at 99.9% efficiency down to .1 microns particle size.
Several tools help us keep the practice sanitized, including steam sterilizers, dental autoclaves, and UV light units for surface disinfection. Dental instruments are cleaned with steam, heat, and pressure to sterilize durable tools to the highest possible level. For more general health and safety considerations, we follow practices like:
Disinfecting all countertops and other surfaces with chemical disinfectants approved by the EPA for medical use

The use of face masks and disposable gloves for all staff members

Requiring handwashing from all staff with anti-bacterial soap at the handwashing stations throughout the practice

Maximizing the use of disposable materials whenever possible and autoclaving or steam sterilizing everything else.
Before you enter the exam room, our team will thoroughly clean all the surfaces and don new gloves and masks. We'll show you that reusable equipment has come straight from the sterilization unit and is prepared only for your procedure.
Disposable Materials Protect the Patient
We strive to use disposable dental care materials whenever possible to reduce the need for sterilization between patients while keeping you safe. This includes gauze, floss, dental cleaning brushes, masks, face shields, gloves, and even gowns worn by the dentist.
The materials are all disposed of as soon as your procedure ends to protect the next patient who visits. It's part of our commitment to compassionate care that makes you feel comfortable visiting the dentist, even if you have other health concerns.
Full Sterilization for Tools and Instruments
For instruments that must be reused from procedure to procedure, we rely on steam and autoclave sterilization methods. The four main steps of these processes include:
Cleaning the instruments and equipment in ultrasonic cleaning units — a step that removes any debris while killing the majority of bacteria.

Packaging the instrument in special wraps approved by the FDA for this specific purpose.

Moving the packages into the autoclave or steam unit for a full sterilization cycle, which kills any remaining contaminants for a perfectly clean and safe set of dental instruments.

Disinfecting the machinery used to sterilize and clean the equipment, ensuring the cycle is complete.
Each set of dental instruments that is run through the autoclave for sterilization is stored in the sealed packaging until it's used for your dental exam or procedure. This ensures you trust each set of tools is clean and ready for use when it's presented to you. Our team will handle all the hard work of sterilization so you can just sit back and relax while we work on your smile.
We Care About Your Health
At LaRock Dental, your comfort with the dental care you're receiving is our number one priority. We sterilize surfaces, tools, and more with the latest techniques and invest in ongoing training for all employees. The American Dental Association (ADA) guides all of our sterilization efforts, not to mention FDA and EPA requirements.
If you have any specific concerns because of existing health conditions, feel free to ask us any questions until you feel informed about our procedures. We aim to provide transparent and reliable care so you always feel like you're in good hands.
Schedule an appointment with Dr. LaRock or associate Dr. Ross today to enjoy our high standard of dental care.
Request An Appointment Today
If you're looking for compassionate and quality dental care in Manchester, MI, you can rely on LaRock Dental and the caring team under Dr. LaRock and associate Dr. Ross.
Testimonials
We Love Hearing From Our Patients

Front desk staff, dental hygienist and doctors were pleasant and professional.
– Gerald M.

"My hygienist was amazing and dentist was excellent. Highly recommend!"
– Brent L.

"Great small town practice with a caring staff."
– Michael B.