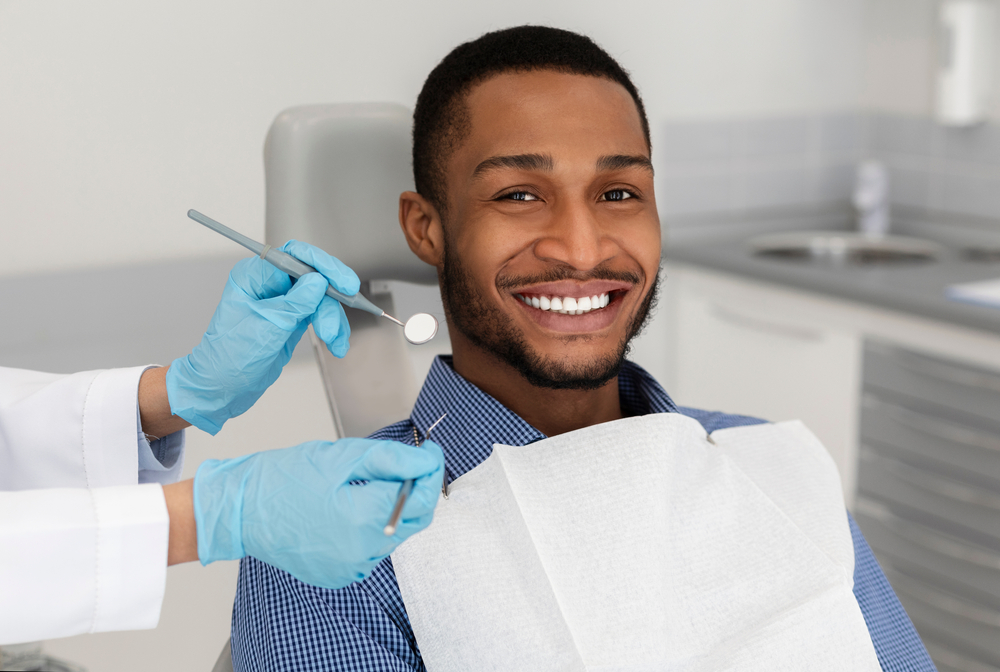 Restoration dentistry is a complex process with many options for repairing damage of all kinds. But no matter the specific method used for stabilizing the teeth and giving them a whole new look, some materials offer a more life-like look than others.
Porcelain is a good choice for all sorts of different restorative dentistry procedures, ranging from crowns to basic fillings. While porcelain dental work is durable and long-lasting, eventually Dr. LaRock may need to recommend some restoration to your crowns, dental implants, and more.
Can Porcelain Dental Work Be Repaired?
Porcelain restorations are some of the longest-lasting out there. Crowns are definitely best made from this material since they're full-sized restorations that cover the entire top and sides of a tooth. Inlays and onlays, two extensive forms of fillings for stabilizing a tooth after drilling, can also be made with this material for a nearly invisible and stain-resistant repair.
However, even porcelain eventually shows signs of wear and tear. Discoloration, chipping, and other forms of damage all help make dental work noticeably rather than natural-looking. But don't worry. Here at LaRock Dental, our team is well-versed in using our skills to their full extent to masterfully repair and restore all kinds of dental work. When repair alone isn't enough, we can fabricate replacements as well.
What Can Damage Porcelain Dental Work?
Of course, just knowing that porcelain can be fixed doesn't mean you want to be in the dentist's chair for repairs all the time. Dr. LaRock want you to spend more time enjoying your smile and less time having it worked on.
Staining is one of the most common problems we see here at LaRock Dental in our patients that have porcelain dental work. While porcelain is far more stain-resistant than resin, it can still eventually discolor if you smoke, drink coffee or red wine, or eat highly acidic foods. Other patients accidentally chip or crack their porcelain crowns on hard and sticky foods. Accidents can always account for damage that you otherwise would have carefully avoided. Even tooth grinding that goes undiagnosed will wear out a durable porcelain inlay or filling. Thankfully, we also create custom night guards here to protect all of your dental work regardless of its material.
Porcelain offers plenty of benefits for the dental patient. It's durable and withstands wear and tear better than some other restoration materials that blend in. While it may occasionally need some repair or stain-removal, it's still one of the top choices for work like crowns and veneers. You just need a dentist you know can restore porcelain before investing in it for your own dental care needs. Let our team put you at ease about long-term care for this material.
What Can Porcelain Restorations Do for You?
Porcelain restoration can help you make the most of the dental work you've already completed. Don't worry that you'll have to replace damaged work right away. We'll work to find any repair options that keep the crown or veneer in place, only recommending a full replacement if it's the best course of action for you. We pride ourselves on an honest approach to this kind of restoration dentistry.
Let us help you find the right porcelain restorations for any dental challenges by calling us today at (734) 428-8323.
Request An Appointment Today
If you're looking for compassionate and quality dental care in Manchester, MI, you can rely on LaRock Dental and the caring team under Dr. LaRock.
Testimonials
We Love Hearing From Our Patients

Front desk staff, dental hygienist and doctors were pleasant and professional.
– Gerald M.

"My hygienist was amazing and dentist was excellent. Highly recommend!"
– Brent L.

"Great small town practice with a caring staff."
– Michael B.