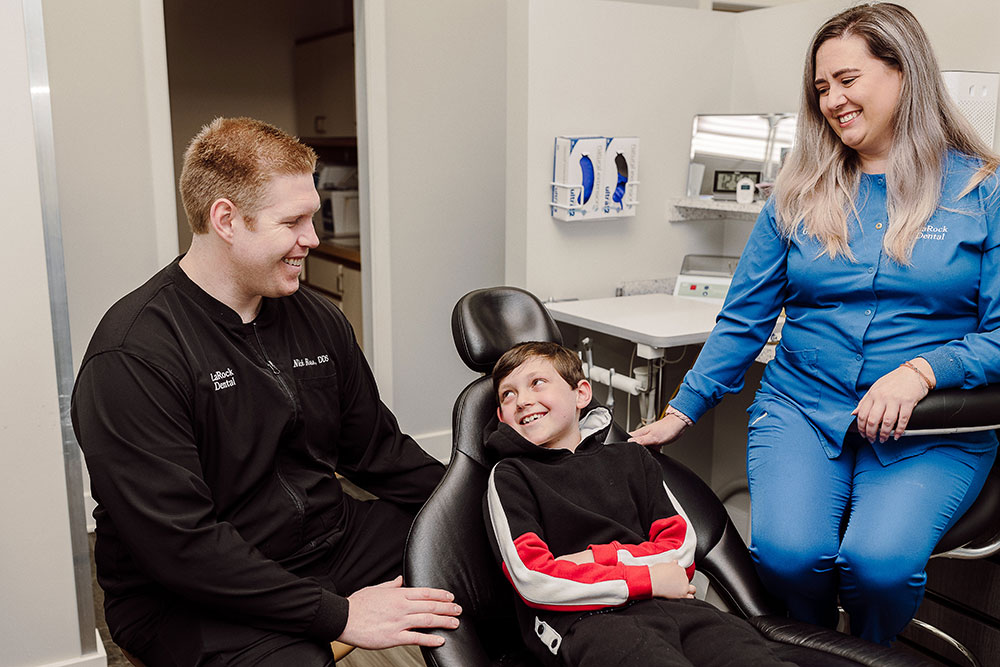 Our primary focus here at LaRock Dental is preventative dentistry. We believe in addressing dental health issues as early as possible to prevent as much decay and damage as possible. This requires a commitment to routine dental care from both the patient and the dentist.
We encourage our patients in the Manchester, MI area to visit at least twice a year for routine cleanings and more. A commitment to preventative dental care pays off handsomely down the road with fewer health issues and reduced expenses for restorative work. With the proper care, we believe the majority of our patients can keep their natural teeth their entire life.
What Kind of Preventive Dentistry Services Are Available?
At LaRock Dental, we offer many kinds of preventive services designed to help you avoid tooth loss or other serious problems later on. Our selection of preventive services includes:
Comprehensive oral exams designed to catch dental issues as early as possible

Dental cleanings to remove tartar and plaque for reduced decay and gum disease

Fillings for cavities and decay to prevent further damage to the tooth

Fluoride treatments to help strengthen the teeth and restore enamel

Pediatric dentistry to make children more comfortable going to the dentist

Oral cancer screenings, potentially life-saving exams that spot early signs of cancer

Scaling and root planing to fight gum disease after plaque forms under the gum line

Athletic and night mouth guards, counteracting the damage done by tooth grinding or sports injuries

Sealants, coatings for protecting teeth from decay

Education on good dental habits.
The Importance of Preventive Dental Care
If you've never visited your local Manchester family dentist before or if it's been some time since last visiting one, there are several reasons why you should make an appointment today. First, preventive dental care will save you money by preventing cavities, tooth loss, gum disease, and other serious oral conditions. 
Second, regular checkups allow us to track your teeth and gums and how they change as you age. A history of high-quality X-rays will help us catch small problems before they become big ones. 
Third, we'll be able to provide recommendations based on what we see during each exam that may improve your overall dental health. For example, if you grind your teeth at night, we can fit custom mouth guards to prevent further damage.
What You Can Do at Home for Better Dental Health
Invest in two visits per year at LaRock Dental for professional cleaning and overall oral health exam. Brush twice a day with a soft toothbrush and toothpaste that contains fluoride. Rinse your mouth after meals with plain water and floss once a day as well. 
If you are unable to reach some areas due to gum disease or missing teeth, ask our team for recommendations for electric toothbrushes, which may make brushing easier.
Start the Journey to Good Dental Health in Childhood
Our practice serves the entire family, so we encourage adults to attend regular dental appointments to teach these good habits to their children. In fact, it's never too early to start teaching lessons about taking better care of your oral hygiene!
If you have put off caring for your mouth due to bad experiences or other reasons, come see us today and let your new experiences teach your family members that they can have good dental visits as well. Our goal is not only to help each person maintain his or her smile but also to establish a lifelong habit of healthy home practices. Choose us for pediatric dentistry as well as adult dental care.
If you would like to learn more about preventive dentistry in Manchester, MI, contact LaRock Dental.
Request An Appointment Today
If you're looking for compassionate and quality dental care in Manchester, MI, you can rely on LaRock Dental and the caring team under Dr. LaRock.
Testimonials
We Love Hearing From Our Patients

Front desk staff, dental hygienist and doctors were pleasant and professional.
– Gerald M.

"My hygienist was amazing and dentist was excellent. Highly recommend!"
– Brent L.

"Great small town practice with a caring staff."
– Michael B.