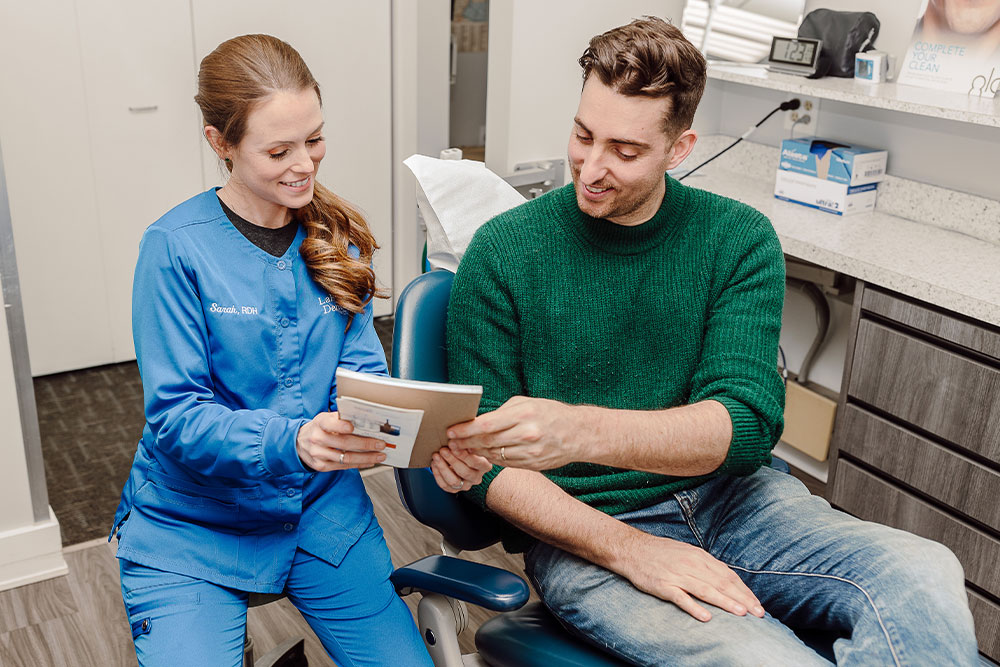 Great oral health is an important dental goal, but there's nothing wrong with wanting an attractive smile. Not only can we help keep your teeth strong and free from decay throughout your life, but LaRock Dental also provides a wide range of cosmetic services for our patients in Manchester, MI.
Our cosmetic treatment options go far beyond just the basics. Whether you're trying to achieve a specific goal or need suggestions on how your smile could look with a few changes, Dr. LaRock and associate Dr. Ross can help since they have plenty of experience in the field of cosmetic dentistry.
Who Should Consider Cosmetic Dentistry?
Unlike some forms of restorative dentistry that require extensive preparation, most forms of cosmetic dentistry work well for patients of all ages. There are relatively few conditions that prevent you from using tooth whitening or veneers to get the look you want. If you're in a field where a bright smile and straighter teeth could get you a lot of attention and opportunities, the investment in your smile could be a career move. Even if the work just boosts your self-esteem, that's enough of a reason to consider cosmetic improvements from our team.
Can Cosmetic Services Be Combined With Other Forms of Dentistry?
It's possible to completely makeover your smile with several complementing services from Dr. LaRock or associate Dr. Ross. First, invest in any necessary preventative care or restoration to deal with decay and damage. Once your smile is healthy and stable, we can target the right cosmetic treatments together to find what you need for a completely new look. There may be waiting periods for recovery between various restoration treatments and cosmetic procedures, but we can arrange it all with ample preparation so you have the results you want before a big event.
How Can a Patient Make the Most of Cosmetic Dentistry?
Getting the most out of cosmetic dentistry may mean making a few changes to reduce the chances of future staining or damage. For example, quitting smoking or avoiding coffee can help keep teeth whitening effective for as long as possible between treatments. Veneers and bonded treatments need gentle care since they can chip or become damaged if you're not careful. Dr. LaRock and our team of dental assistants will give you all the information you need to take good care of your cosmetic work, no matter what kind you receive.
What Cosmetic Services Does LaRock Dental Offer?
We offer several cutting-edge cosmetic dental treatments in our Manchester, MI practice, including:
Veneers to cover the surfaces of discolored or damaged teeth

Bonding for a similar effect with a thinner layer of material

Tooth whitening with the Glo Whitening system

Porcelain restorations to disguise the work while improving the strength and look of your smile

Dental crowns made from materials that match the natural tooth's color or durable metals for long-lasting support.
Consider a package of cosmetic services as part of your investment in yourself. Schedule an appointment today at our practice to discover how we can spruce up your smile in both subtle and big ways.
Request An Appointment Today
If you're looking for compassionate and quality dental care in Manchester, MI, you can rely on LaRock Dental and the caring team under Dr. LaRock and associate Dr. Ross.
Testimonials
We Love Hearing From Our Patients

Front desk staff, dental hygienist and doctors were pleasant and professional.
– Gerald M.

"My hygienist was amazing and dentist was excellent. Highly recommend!"
– Brent L.

"Great small town practice with a caring staff."
– Michael B.