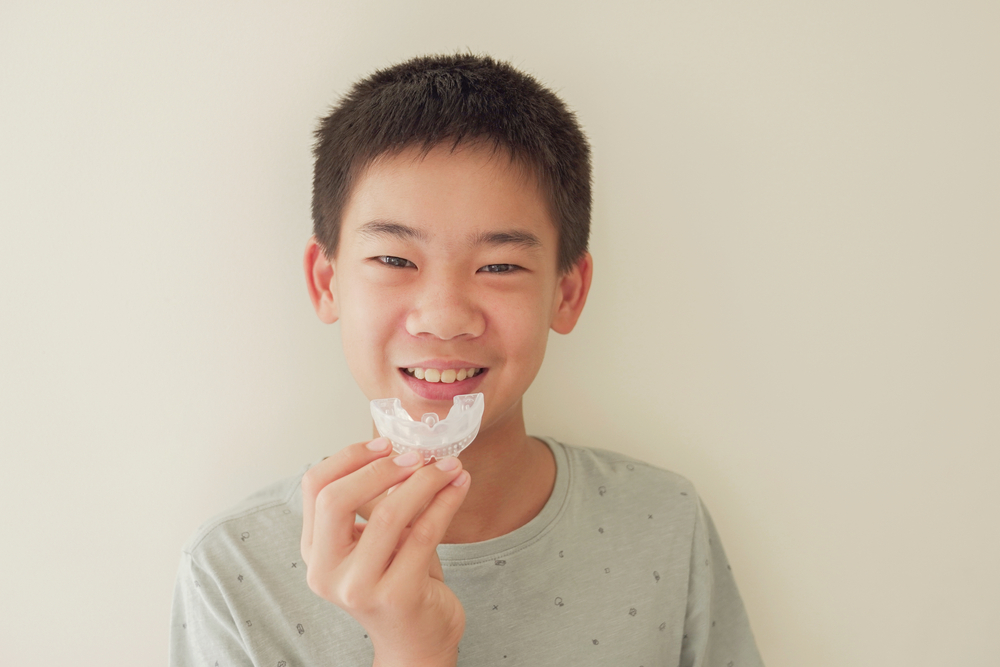 Getting active and enjoying sports with friends is a great way to stay healthy. For children, school sports can help build self-esteem that lasts for a lifetime. However, even relatively safe activities can sometimes put the teeth at risk for specific damage. You might brush routinely and never let a cavity sneak up on you but risk your teeth daily with a favorite sport. 
Athletic mouthguards go a long way in preventing trauma and damage from threatening your smile. The chance of dental injuries will be greatly reduced with a custom mouthguard from us here at LaRock Dental that's comfortable and easy to use.
Dr. LaRock and associate Dr. Ross can help you decide if you need this kind of mouthguard or not. We also offer nightguards custom fitted to your specific bite pattern for nighttime grinding, also called bruxism.
Why Get a Mouthguard From the Dentist Rather Than a Sports Store?
It's easy to walk into any sports store and find a rack of plastic dental guards designed for athletic uses. These hard, uncomfortable, minimally protective devices aren't comparable to the athletic mouthguards we customize here at our practice. Our guards are made of a softer, more flexible material that fits more comfortably and provides more protection than a thin layer of rigid plastic.
Instead of starting with a stock device and modifying it to your bite pattern, we start with new impressions of your teeth and craft the guard from scratch. This means it'll slip over your teeth with ease, making you or your child much more likely to actually use it. Comfortable mouthguards won't distract you from your activity either, leaving you focused and at peak performance. You can also pick your favorite color for a custom athletic mouthguard you'll be able to spot at a glance.
Which Sports and Activities Call for an Athletic Mouthguard?
Most athletic activities that have any risk of falls or strikes to the face call for the use of this kind of guard. This can include:
Horseback riding, bicycling, ATV riding, dirt

biking, and similar methods of riding

Partial

or full-contact team sports like soccer, football, rugby, basketball, lacrosse, polo, and hockey

No contact sports that involve balls or other devices that could strike the mouth, such as

baseball and softball

Martial arts of all kinds, even if the discipline stresses the avoidance of contact with the face and head

Rock climbing, rappelling, and freediving

Ice skating, rollerblading, and skateboarding
Can People With Braces Wear Mouthguards?
Not only can we customize an athletic mouthguard for you so that it fits over braces without damaging them, but it's also highly recommended that anyone with braces should wear a guard during most activities. Braces are particularly likely to damage the inside of the cheeks and gum tissue if you fall or are hit in the face during an activity. 
Wearing a guard over the brackets and wires protects the inside of your mouth and ensures the braces are insulated from potential damage. While we don't offer orthodontic services here at LaRock, we do provide athletic mouthguards for patients who are wearing braces.
Mouthguard Options With LaRock Dental in Manchester
Plan an appointment with our LaRock Dental team today to get fitted for a guard you won't mind wearing during your favorite activities.
Request An Appointment Today
If you're looking for compassionate and quality dental care in Manchester, MI, you can rely on LaRock Dental and the caring team under Dr. LaRock and associate Dr. Ross.
Testimonials
We Love Hearing From Our Patients

Front desk staff, dental hygienist and doctors were pleasant and professional.
– Gerald M.

"My hygienist was amazing and dentist was excellent. Highly recommend!"
– Brent L.

"Great small town practice with a caring staff."
– Michael B.