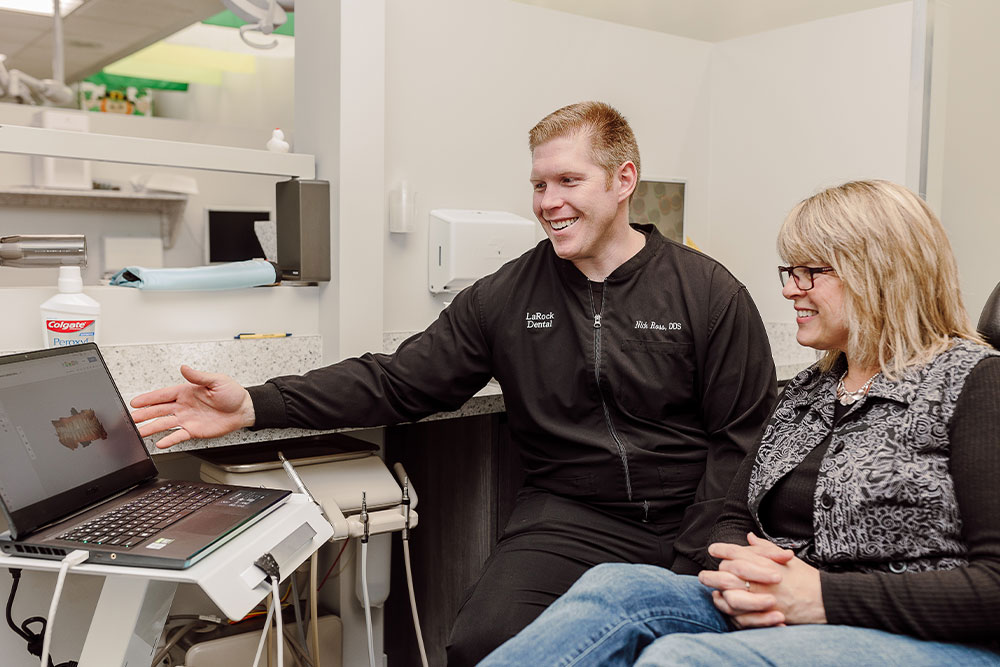 Our services may begin with preventative treatments, but they don't end there. When a dental problem sets in, turn to our caring team to handle your restoration work with respect and compassion. We'll start with a thorough exam to determine what's going on in your mouth and the extent of the situation.
Once we know if we're dealing with a simple problem or a set of more complex interacting conditions, we can create a complete treatment plan for you and fully explain what is going on with honest recommendations. After completing the necessary restorative dentistry, return to LaRock Dental for follow-up preventative care for ongoing dental health.
Why Is Restoration Needed for Missing Teeth?
Choosing a method for filling in the gap left by a missing or extracted tooth is more than just a matter of restoring the beauty of your smile. Even if it's not possible to see where your tooth is missing, it affects your overall jaw and teeth health.
Each gap in the alignment of the teeth creates space for the rest of them to move around. The surrounding teeth will slide over to fill in the new gap, changing your bite pattern and potentially damaging teeth that clash in their new positions.
Putting in a dental implant or other restoration work also helps maintain good jaw tissue. Missing tooth roots allows the jaw bone to shrink away, increasing the chances of a fracture. Restoration work keeps you chewing and smiling without hesitation.
Restorative Dental Care at LaRock Dental?
Dr. LaRock and the rest of the team provide a full spectrum of restoration options for our patients in Manchester, MI. We try to offer a treatment plan for every budget and level of tooth loss so that your smile can be restored to your satisfaction.
We highly recommend dental implants for anyone who needs a gap filled. These highly accurate replacements anchor right in the jaw tissue, creating a durable replacement for a missing natural tooth. Bridges and crowns are two more options for dealing with damaged or missing teeth. While bridges once relied wholly on attaching to nearby healthy teeth, we offer implant-anchored bridges that can replace multiple teeth on one anchor.
For a restoration option that is budget-friendly and easy to replace as needed, consider full or partial dentures. Implant-supported dentures are available for a bite strength that other types of dentures can't offer. Inlays and onlays help improve the look of damaged or missing teeth and stabilize fractured teeth to prevent future damage.
How Should a Patient Choose a Restoration Treatment?
You don't have to decide on your own when you realize you need restorative dental treatment. Schedule a consultation with our team here at LaRock Dental for our expert recommendations and a thorough explanation of the benefits of each option. We pride ourselves on educating each patient about their treatment plan options so that everyone who leaves our office feels informed and empowered to make the right decision.
Reach out to find out how our restorative dental care could make a difference in your life. Call us at (734) 428-8323 to schedule an appointment in our Manchester office.
Request An Appointment Today
If you're looking for compassionate and quality dental care in Manchester, MI, you can rely on LaRock Dental and the caring team under Dr. LaRock and associate Dr. Ross.
Testimonials
We Love Hearing From Our Patients

Front desk staff, dental hygienist and doctors were pleasant and professional.
– Gerald M.

"My hygienist was amazing and dentist was excellent. Highly recommend!"
– Brent L.

"Great small town practice with a caring staff."
– Michael B.