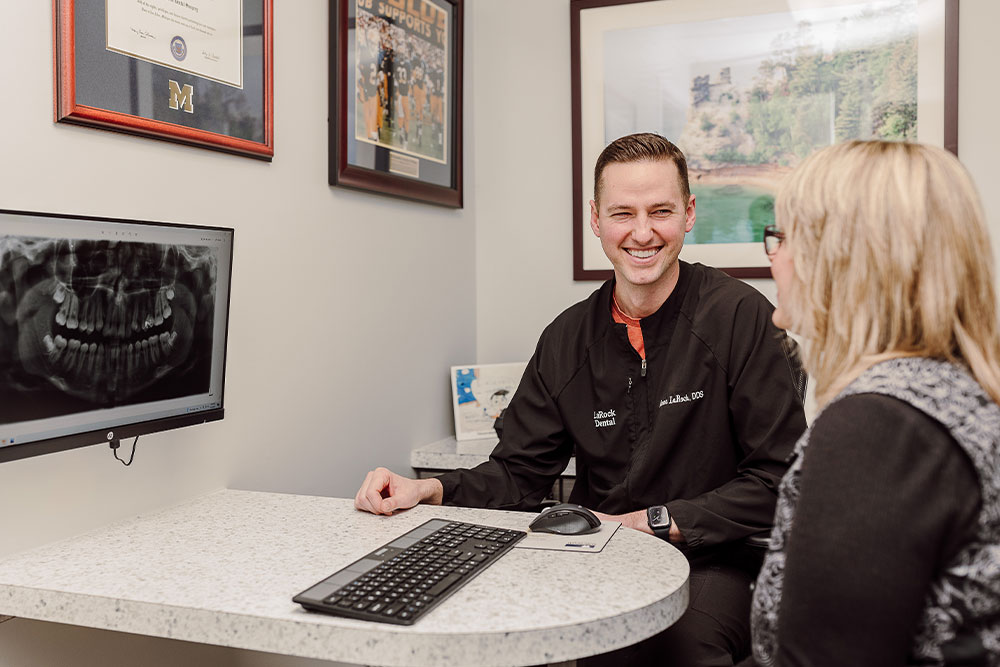 Our team here at LaRock Dental has the experience of using cutting-edge dental technology to give you the best possible care. Yet we'll only use these specialty devices when necessary to get more information about your oral health. This saves you money by avoiding unnecessary testing while still giving you access to top-notch dental technology in a small-town setting. We'll only use advanced technology like the intraoral scanner when you need a mouthguard or restoration work.
Investments in the Latest Digital Imaging
Dr. LaRock and associate Dr. Ross need clear, accurate X-rays to determine what care is best for your dental health. Digital X-rays help our team provide only what's necessary for your health, ensuring savings and prompt treatment before problems can grow. 
This type of X-ray also minimizes radiation exposure. We need to take at least one set of X-rays per year to track the position of the teeth and jaws over time. If you're dealing with an ongoing restoration process, you may need a few extra images to verify that a problem has been solved or to investigate specific parts of the mouth.
Easier Impressions and Intraoral Scanner
While some impressions must still be made by hand by our skilled team, our digital scanner allows for the elimination of many manual trays. This means a quicker, more comfortable, and more accurate impression process for restoration work and the construction of custom night guards and athletic guards. 
For advanced restoration cases, such as dental implants or dentures, the intraoral scanner can provide a nearly full picture of the mouth for modeling and planning. There's no need to travel far to find this kind of technology when it's available right here at home in Manchester, MI.
Choose LaRock Dental for an honest team that knows how to put dental technology to good use. Contact us today to schedule your next appointment.
Request An Appointment Today
If you're looking for compassionate and quality dental care in Manchester, MI, you can rely on LaRock Dental and the caring team under Dr. LaRock and associate Dr. Ross.
Testimonials
We Love Hearing From Our Patients

Front desk staff, dental hygienist and doctors were pleasant and professional.
– Gerald M.

"My hygienist was amazing and dentist was excellent. Highly recommend!"
– Brent L.

"Great small town practice with a caring staff."
– Michael B.