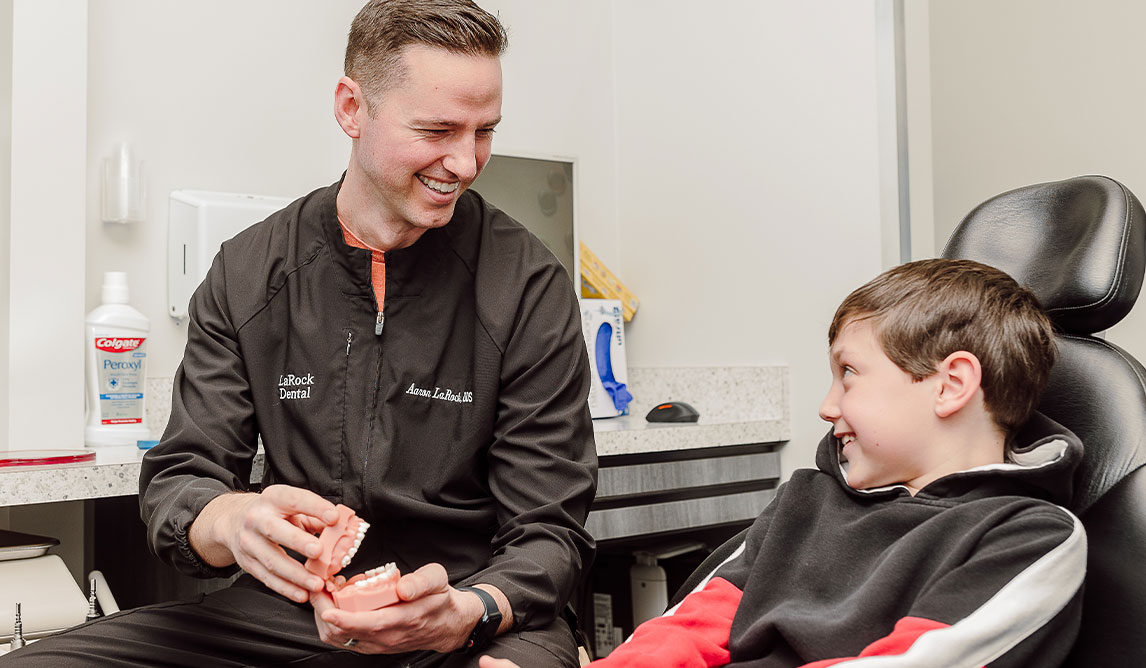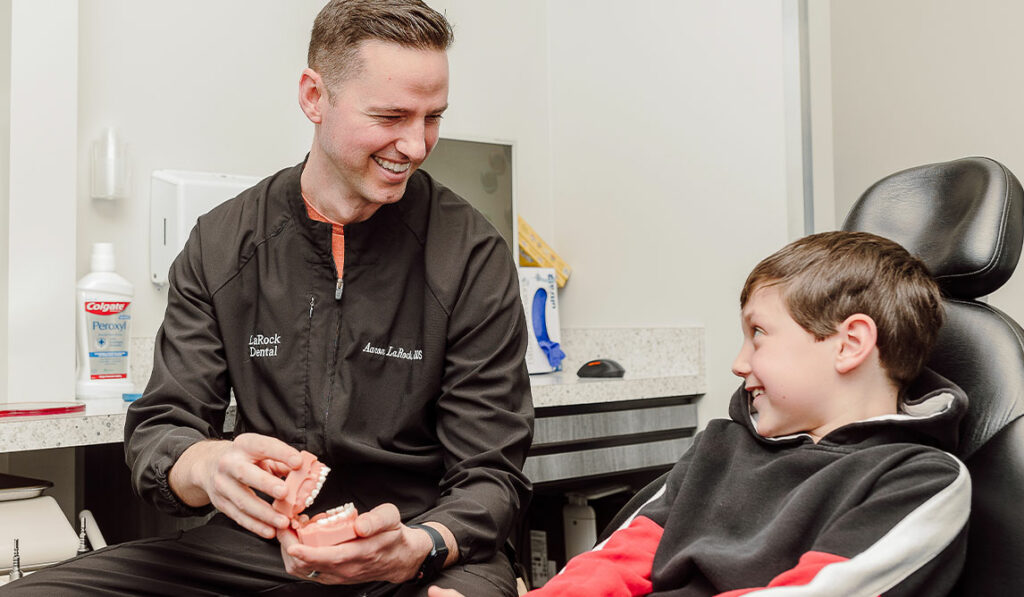 At LaRock Dental, we pride ourselves on being a full-service family dentistry. We aim to support patients from their first dental visit through adulthood and the dental journey of life. Children have unique needs when it comes to dental care.
By taking our time and providing compassionate, supportive treatment to our youngest patients, we ensure that our pediatric patients develop good memories of the dentist. Even if you have a child who is afraid of the dentist or who has struggled at other practices, we can likely find a way to make them happy with the process at our practice. Nervousness doesn't have to become dental anxiety when you choose a team well-versed in pediatric dentistry.
What Makes Pediatric Dentistry Different?
Many dentists only focus on adult dentistry because mature teeth are larger, making them slightly easier to work on. This is also because children require a little more effort to keep calm and still in the dental chair. 
We're dedicated to serving the entire community here in Manchester, MI, so we provide services for the entire family. Children may struggle with excessive sugar consumption, thumb sucking, or activities that could damage the teeth. We can help educate your children on how to care for their teeth and create custom mouth guards to protect their smiles no matter how active they are.
Pediatric dentistry focuses on the factors that change in a child's mouth as they grow. Even temporary baby teeth sometimes need fillings and possibly even crowns to ensure they last until the permanent replacements come in. Leaving children with decayed or damaged baby teeth only puts stress on the adult teeth still hiding in the gums. An investment into treatment for a child's teeth will pay off in reduced pain, resulting in better attention at school and better growth due to adequate nutritional intake.
What Makes Our Practice Different?
Our pediatric treatments focus on preventative care to get your child off to the right start. By setting good habits and teaching them all the skills they need to care for their teeth, we hope to inspire a lifetime of caring for oral health both in and out of the dentist's office. 
Attending a full family practice like LaRock Dental is a good way to set an example for your family. If you plan your appointments out, you can demonstrate to your children that you also take your oral health seriously by never skipping a routine cleaning or exam. When the entire family goes to the dentist together, it's easier to set a pattern for life that leads to good health.
What Pediatric Dentistry Services Are Available?
All new pediatric patients start out by being introduced to the gentle and friendly cleaning process our team of hygienists is known for. After a dental exam, Dr. LaRock or associate Dr. Ross will check out your child's mouth for issues that might need to be addressed. 
We recommend fluoride treatments to strengthen the enamel or sealants if a temporary protective coating is needed. Both of these options can help reduce cavities significantly throughout childhood. We'll also verify your child is brushing properly to reduce cavities, filling any that do occur to stabilize the teeth, so the need for extractions and crowns is minimized while waiting for the adult teeth to come in.
Pediatric Dentistry in Manchester
Choose one dental practice in your hometown for the entire family with adult and pediatric dentistry here at LaRock Dental. Contact us today to schedule one or more appointments and get started on a family journey for better dental health.
Request An Appointment Today
If you're looking for compassionate and quality dental care in Manchester, MI, you can rely on LaRock Dental and the caring team under Dr. LaRock and associate Dr. Ross.
Testimonials
We Love Hearing From Our Patients

Front desk staff, dental hygienist and doctors were pleasant and professional.
– Gerald M.

"My hygienist was amazing and dentist was excellent. Highly recommend!"
– Brent L.

"Great small town practice with a caring staff."
– Michael B.