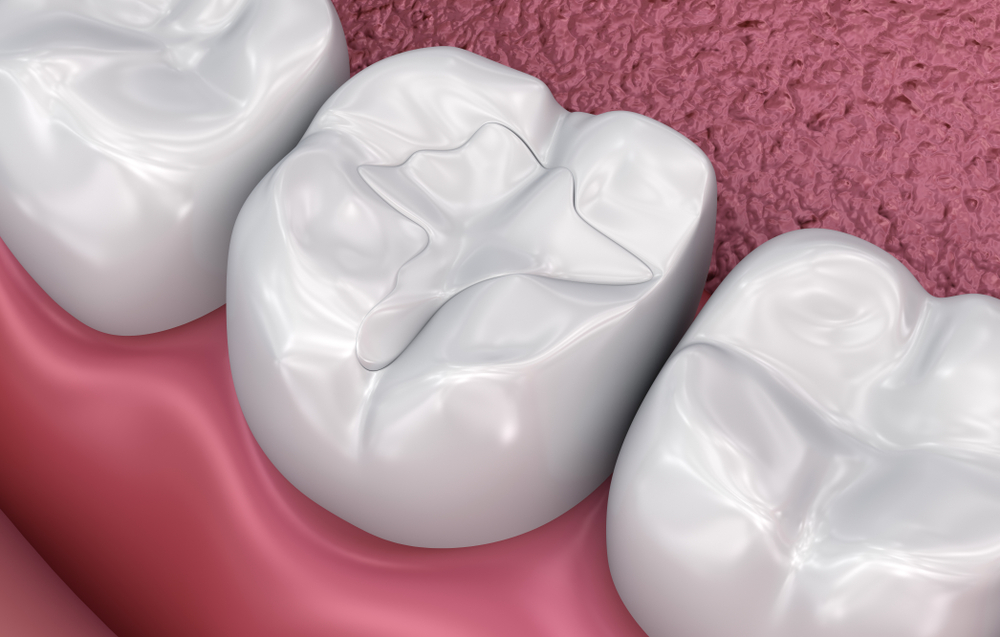 Some of the most familiar parts of preventative dentistry for most patients are dental fillings. You may think of the silvery mercury amalgam fillings used almost exclusively in the past, but we offer many more options today for fillings that practically disappear. We work hard to make this treatment as quick and comfortable as possible for all patients. Even in children with small baby teeth with even smaller cavities, we can easily accommodate sensitive or anxious patients.
Keep cavities from getting any bigger with the time-tested method for stopping tooth decay in its tracks.
When Are Fillings Needed?
Our team here at LaRock Dental only recommends fillings when they are necessary to deal with damage to a tooth. This technique, in particular, is used when decay has set in. Cavities form because acidic conditions in your mouth slowly wear out your enamel, eventually allowing bacteria to break down tooth tissue.
Finding the cavity and removing the damaged sections of the tooth allows for a fresh start with no further decay. The filling material is necessary to stabilize the tooth, maintain its appearance, and keep your bite pattern from changing. It acts like a patching material, filling in where decay and its removal have left a gap behind.
What Are the Signs You Have a Cavity?
Signs of a cavity vary between patients, with most reporting no particular signs of all for early stages of tooth decay. Waiting until you have pain, sensitivity to hot or cold, or a rough edge to a tooth in your mouth may let the decay spread further than necessary.
Coming in for routine exams every six months ensures our team catches your cavities while they're very small and quick to fill. This reduces the drilling time and the chance of any discomfort, not to mention preserving the natural structure of the tooth. Waiting too long to fill a cavity could lead to the need for a root canal or crown instead if the tooth becomes more seriously damaged.
What Materials Are Used for Dental Fillings?
The "silver" fillings you may be accustomed to seeing are actually made from a material known as mercury amalgam. While this material is still used in limited cases where extra durability is needed, multiple alternatives are available today that closely match the color of your teeth. From porcelain to cubic zirconia, the dentist will advise you on your options and help you select the right one based on the size of the cavity and the tooth.
How Are Fillings Added to Teeth?
Our team will first identify the cavity, determine its depth, and ensure there's no infection going to the root of the tooth that requires further treatment. We'll use digital X-rays to pinpoint these details.
Simple cavities must have the decayed material removed before the new filling is packed in. If the cavity is particularly large or complex, we may need to use a crown instead for the repair. The filling material bonds tightly to your tooth, and some expand with pressure from your teeth to help reinforce that bond.
If you suspect you have a cavity, call us today at (734) 428-8323 or fill out our convenient contact form to get an appointment with our caring team at LaRock Dental in Manchester.
Request An Appointment Today
If you're looking for compassionate and quality dental care in Manchester, MI, you can rely on LaRock Dental and the caring team under Dr. LaRock and associate Dr. Ross.
Testimonials
We Love Hearing From Our Patients

Front desk staff, dental hygienist and doctors were pleasant and professional.
– Gerald M.

"My hygienist was amazing and dentist was excellent. Highly recommend!"
– Brent L.

"Great small town practice with a caring staff."
– Michael B.